Newham Housing in AJ
Bell Phillips Architects' Newham Housing projects at Florence Road and Pitchford Street are part of a new residential development across 17 locations in the London Borough of Newham, of which they are designing six. The scheme illustrates Newham's commitment to providing high quality and sustainable affordable housing, with the aim to accommodate large families, maximise daylight, connecting the outdoors and create secure homes. Each are driven by adaptability, allowing easy reconfiguration to suit the settings of other sites across the borough.
This project was featured in The Architects' Journal in November 2017.
The article can be found here.
Stahlwerk Augustfehn on Wallpaper*
The project is the result of a decade of regeneration at Stahlwerk Augustfehn, a small steel factory in rural North Germany, where beautiful rare survivals of Germany's industrial past are now accompanied by crisp contemporary architecture. Alongside new production facilities, Finkernagel Ross has captured the unique industrial heritage of Stahlwerk Augustfehn by restoring and displaying industrial artefacts in the new buildings. These unearthed artefacts of a bygone era include a painstakingly restored former factory clock, a listed steam engine dating from 1902 (the only one of its kind still in operation) and several old original steel hammers. Wallpaper* covered the story in February 2018.
The article can be found here.
Stahlwerk Augustfehn on Wallpaper*
Southwick Yard on dezeen
Southwick Yard is an intimate four-double bedroom house by Belsize Architects, nestled in a secluded gated mews at the heart of Connaught Village in the Hyde Park Estate. Previously, a small, drab one-bedroom mews cottage in Southwick Yard offered limited opportunities for occupancy. In developing the site for the Church Commissioners, Belsize Architects advised that demolishing and replacing the existing building – rather than extending or remodelling it – and adding a basement would maximise the site's potential, both spatially and financially. Southwick Yard was covered by dezeen in February 2018.
The article can be found here.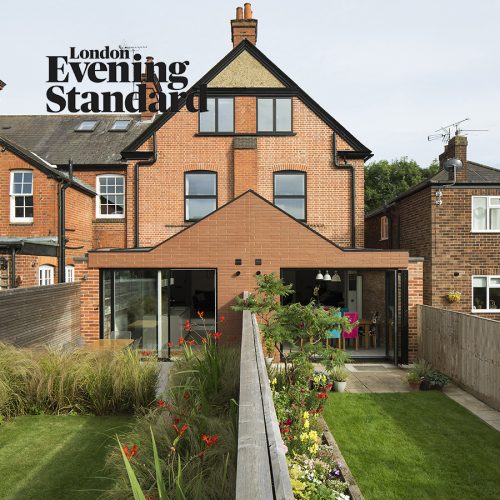 The Berkshire Twins in The Evening Standard
The Berkshire Twins are identical contemporary rear extensions to a pair of 1870's townhouses in a conservation area in the village of Twyford. The first extension was carried out by architect homeowner Fred Guttfield of Guttfield Architects and his wife. Once the project was competed, the neighbours asked for an identical copy. The Evening Standard covered this story on 21 February 2018.
The Berkshire Twins in The Evening Standard
Three projects featured in The Telegraph
Mulroy Architects' Upland Road, Belsize Architects' Ferncroft Avenue and Napier Clarke Architects' Boat House feature in The Telegraph's cover story on bringing natural daylight into period homes.
The article can be found here.
Three projects featured in The Telegraph
MIPIM 2018
We're looking forward to attending MIPIM 2018 between 13 and 16 March and hope to see you there. If you'd like to arrange to meet us with us, please get in touch.
The Forge on Architecture Today
The Forge by Emrys Architects is a new headquarters and exhibition space for Craft Central, a charity promoting craftsmanship and providing affordable studio space for crafts professionals in London's Isle of Dogs. The project has been conceived as a bold contemporary intervention within the historic Grade II listed former Millwall Ironworks – originally built in the mid-19th century at the zenith of the area's shipbuilding activity. The Forge was featured on Architecture Today in February 2018.
The article can be found here.
The Forge on Architecture Today
Three clients in The Times
This piece in The Times' Bricks & Mortar takes a look at solutions to the housing crisis with quotes from Bell Phillips Architects, bptw partnership and Proctor & Matthews Architects.
The article can be found here.
Three clients in The Times
Aperture Works in Inside Housing
Aperture Works by bptw partnership – the ambitious first phase of a multi-use regeneration of the historic Kodak factory site in Harrow for L&Q – appeared as Development of the Week in 12 January's edition of Inside Housing.
The article can be found here.
Aperture Works in Inside Housing
Don't Move Improve Awards 2018
Congratulations Gresford Architects and Mulroy Architects! We were pleased to see your Driffield Road and Uplands Road projects recognised by the NLA Don't Move Improve Awards.
Don't Move Improve Awards 2018
RICS awards shortlist
Our clients' projects have been recognised across multiple categories with 15 out of the 17 projects entered being shortlisted for a prestigious RICS award. Fingers crossed for the awards ceremonies in May everyone!
IBP Award Winners
The annual IBP communication and PR awards recognise achievements by PR and communications teams working across the built environment sector. We're delighted to have won the award for Best PR Consultancy Team of the Year 2017.
The judges said that we have had an exceptional year and were extremely impressed by our work. One judge commented: "They are a relatively young agency and what they've done in the past year is remarkable. They showed consistent success and a real ability to push forward hitherto below-the-radar companies. This success is reflected in their growth in terms of their size, turnover and profit in the past twelve months".
In 2016 we picked up two awards for our work with Martin Ashley Architects at St George's Chapel – IBP Campaign of the Year 2016 and Best Business Communications Campaign 2016.
Blueprint Awards 2017
We were delighted to see several of our clients shortlisted for the prestigious Blueprint awards. Congratulations to Belsize Architects with Hampstead Lane, Bell Phillips Architects with Bracelet Close, Platform 5 Architects with Backwater, Spheron Architects with their Belarusian Chapel and Steyn Studio with Bosjes Chapel.
RIBA MacEwen Award
Congratulations Spheron Architects and Proctor & Matthews Architects on being longlisted for the RIBA MacEwen Awards 2018. Both The Belarusian Memorial Chapel and Chapter House are excellent examples of architecture for the common good and well deserving of the award.